Welcome back for week 2 of Game Day Food month! Now when you think of game day food, what kind of food comes to mind?…For me…that's nachos!
Nachos are such a classic game day food. They're easy to make, they feed a crowd, and you can put pretty much put anything you want on them. One of my favorite ways to make nachos is by using smoked pulled pork…that's right, I said it…SMOKED PULLED PORK!
Now if you're smoking your own pork shoulder (also known as Boston butt…it's not really the butt of a pig…just FYI), you'll probably want to do this a day in advance, because it takes ALL DAY. Same thing if you use a slow cooker. (If you don't have a smoker/charcoal grill, try my Slow-Cooker Pulled Pork recipe…(just don't make it into sandwiches if you're making nachos).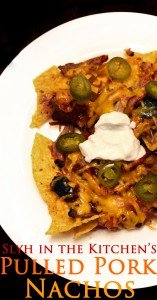 So here's what you'll need:
If you're smoking your own pork:
3 ½ lb boneless pork shoulder roast (also known as Boston butt)
1 cup Rib Rub (or your favorite rib rub seasonings)
½ onion chopped
Water
If you're using the slow cooker: Use the Slow-Cooker Pulled Pork Recipe
For the Nachos:
Pulled Pork
Tortilla Chips
Shredded cheddar cheese
BBQ Sauce
Sliced Jalapenos (fresh or from a jar, whichever your little heart desires)
Sour cream
(I'm not providing quantities on this part, because you can make as little or as much as you want.)
For this we used our: Weber 1482001 Performer Platinum Charcoal Grill, Copper
*This post contains affiliate links.