Halloween is one of my favorite holidays. I love the decorations! I love going to the pumpkin patch and picking pumpkins. I love making all things pumpkin as well!
Old Town Bluffton, South Carolina has an awesome Farmer's Market. They usually have them on Thursday afternoons/evenings. They close off part of Calhoun St, and all of the vendors come out and bring their fruits and veggies. The other great thing about it, there are other vendors with specialty items like fresh pasta, homemade cheeses, spices, and even baked goods. Usually there is a band playing live music and there's always something good to grab to eat while you're there. Just another reason why I love it here!
The great thing about the Farmer's Market in October is fresh sugar pumpkins! These are so perfect for roasting down to make pumpkin puree for pies, breads, coffees, cookies, and anything else you can think of to make pumpkin flavored!
Here's what I used:
1 sugar pumpkin
Olive oil
salt
Allow the pumpkin to cool completely.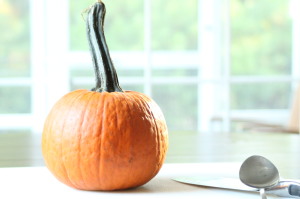 What are you going to make with your pumpkin puree?