Halloween is one of my favorite holidays. I love the decorations! I love going to the pumpkin patch and picking pumpkins. I love making all things pumpkin as well!  I love all of our little traditions each Halloween.
Each year Jon and I sit just outside of our garage and pass out Halloween treats. (We have 3 dogs, it's much easier just to sit outside, than having to hold 3 dogs back while answering the door.) We order pizza and just hang out. Last year, we didn't get a single trick-or-treater…it was very sad… (Our neighborhood didn't have many homes built yet.) This year, with more homes in the neighborhood, we might get at least one!
So since I love pumpkin, I came up with my own Glazed Pumpkin Bread recipe in honor of Halloween. I baked mine in a bundt pan. I love the look of it. The pumpkin bread is topped with a caramel, maple syrup, and Bailey's Irish Cream glaze. The glaze adds a nice touch of sweetness to the bread and keeps it moist. The bread is nice and light, almost cake-like. The pumpkin pie spice really allows the pumpkin flavor to shine through. You can enjoy this for breakfast with coffee or as dessert.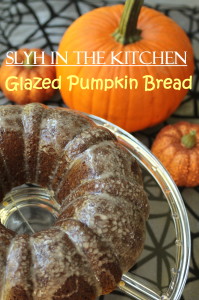 Let's get baking!
Now for the Glazed Pumpkin Bread! You'll need:
1 cup Roasted Pumpkin Puree (canned or fresh)
½ cup granulated sugar
½ cup packed brown sugar (light or dark is fine)
2 eggs
2 tbsp water
2 tbsp Bailey's Irish Cream
1 tsp vanilla extract
2 and ½ cups all purpose flour
1 and ½ tsp baking soda
1 and ½ tsp baking powder
1 and ½ tsp pumpkin pie spice
1 tsp salt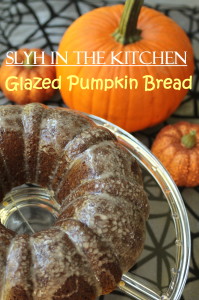 For the glaze:
1 and ½ cups powdered sugar (confectioner's sugar), sifted
2 tbsp maple syrup
2 tbsp caramel syrup
¼ tsp ground cinnamon
¼ tsp salt
1-2 tbsp milk
1 tbsp Bailey's Irish Cream
First we'll make the batter for the bread:
Allow the bread to cool.
Now to prepare the glaze:
Remove the waxed paper sheets carefully.
Store any leftover glaze and Glazed Pumpkin Bread in an airtight container in the refrigerator.