Whew! This weekend is flying by! The last couple of days have been a whirlwind! Some of Jon's family were in town for his cousin, Stephen's Marine Graduation Ceremony. We were so glad to be able to attend the ceremony with everyone. It was great being able to see everyone; we had such a good time!
This past Thursday evening, we went to Jon's parents' house for dinner with Jon's parents, Jon's cousins, Moriah and Suzannah, and their grandmother, Alice. Jon and I try to never go to a dinner empty-handed, and with out-of-town guests, we had to bring our A-game. We wanted our cousins and their grandmother to experience the South; and there was only one way to do that: Use a classic southern fruit, also known as, the peach!
I've done a Peach Crisp in the past, but I wanted to make this particular peach crisp a little more special. While I like the previous version of Peach Crisp, I think I may like the Peach and Blueberry Crisp just a tiny bit more. The sweet, buttery crisp-topping paired with the warm sweet peach and blueberry filling is just out-of-this-world! Top it with a dollop of whipped cream, and it's even more delicious! Is your mouth watering yet?
Everyone seemed to like the dessert pretty well, including Miss Suzannah, who made it a point to tell us how good it was before she even tried the dish. (She likes to tell people their food is good before eating, that way if she doesn't like it after she tries, it, she doesn't have to lie…smart girl! But I think she really did like it.)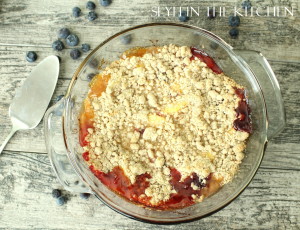 Filling Ingredients:
5 large peaches, peeled and sliced, pits removed and discarded
1/3 cup fresh blueberries
¼ cup sugar
2 tbsp brown sugar
1/8 tsp ground cinnamon
¼ tsp salt
1/8 tsp ground clove
1 tbsp cornstarch
Juice from half of a lemon
Crisp Topping Ingredients:
¼ cup sugar
¾ cup all-purpose flour
¼ tsp ground cinnamon
1/8 tsp salt
½ stick unsalted butter, melted
Whipped topping for serving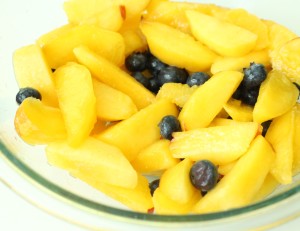 In a bowl, combine the peaches and blueberries. Toss with the lemon juice.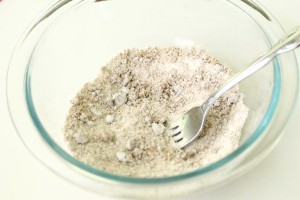 In a separate bowl, whisk together the remaining filling ingredients: ¼ cup sugar, 2 tbsp brown sugar, 1/8 tsp ground cinnamon, ¼ tsp salt, 1/8 tsp ground clove, and 1 tbsp cornstarch.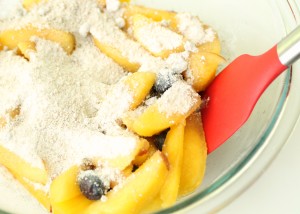 Gently toss the peaches and blueberries with the dry filling ingredients, until all of the peaches and blueberries are coated.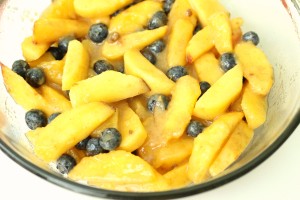 Spoon the peach and blueberry filling into a greased baking dish. I used a 9-inch round casserole dish.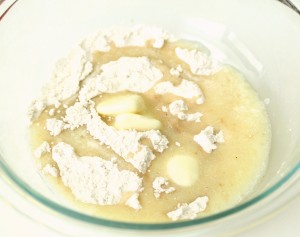 Next, combine the Crisp Topping ingredients in a separate mixing bowl.
The topping should resemble a crumb-like consistency.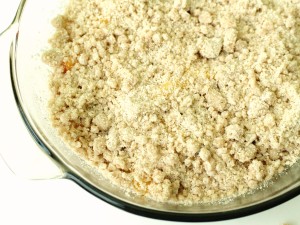 Distribute the topping over the filling evenly.
Bake the Peach and Blueberry Crisp on 375 degrees Fahrenheit for 40-45 minutes. (I sometimes like to place my baking dish on top of a baking sheet in case the crisp bubbles over. The crisp will be very hot when baking is complete, use your oven mitts !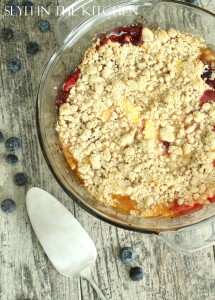 Allow the Peach and Blueberry Crisp to rest and cool for about 20 minutes before serving.
Serve with fresh whipped cream.
I just love the yellow color of the peaches and purple color of the blueberries showing through the baked crisp top, don't you?
---
Prep time:
Cook time:
Total time: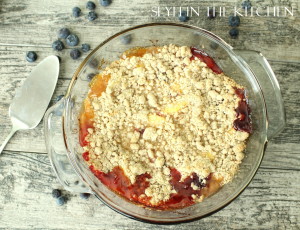 A Peach and Blueberry Crisp is perfect for summer!
Ingredients
Filling Ingredients:
5 large peaches, peeled and sliced, pits removed and discarded
⅓ cup fresh blueberries
¼ cup sugar
2 tbsp brown sugar
⅛ tsp ground cinnamon
¼ tsp salt
⅛ tsp ground clove
1 tbsp cornstarch
Juice from half of a lemon
Crisp Topping Ingredients:
¼ cup sugar
¾ cup all-purpose flour
¼ tsp ground cinnamon
⅛ tsp salt
½ stick unsalted butter, melted
Whipped topping for serving
Instructions
In a bowl, combine the peaches and blueberries. Toss with the lemon juice.
In a separate bowl, whisk together the remaining filling ingredients: ¼ cup sugar, 2 tbsp brown sugar, ⅛ tsp ground cinnamon, ¼ tsp salt, ⅛ tsp ground clove, and 1 tbsp cornstarch.
Gently toss the peaches and blueberries with the dry filling ingredients, until all of the peaches and blueberries are coated. Spoon the peach and blueberry filling into a greased baking dish. I used a 9-inch round casserole dish.
Next, combine the Crisp Topping ingredients in a separate mixing bowl. The topping should resemble a crumb-like consistency. Distribute the topping over the filling evenly.
Bake the Peach and Blueberry Crisp on 375 degrees Fahrenheit for 40-45 minutes. (I sometimes like to place my baking dish on top of a baking sheet in case the crisp bubbles over. The crisp will be very hot when baking is complete, use your oven mitts !
Allow the Peach and Blueberry Crisp to rest and cool for about 20 minutes before serving. Serve with fresh whipped cream