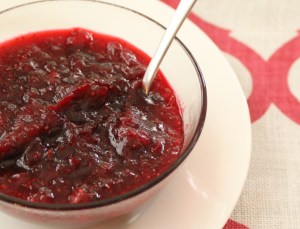 It's been a little rainy here in the Lowcountry the past few days. Makes it an even better day to be in the kitchen working on some recipes. Anyway….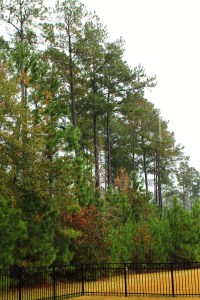 There's a little joke between me and Jon's parents about canned cranberry sauce at Thanksgiving. I normally make everything from scratch for our Thanksgiving meal with the exception of the boxed stuffing. I like making homemade stuffing, it's easy and tasty, but Jon insists on the boxed kind. So being that marriage is often about compromise, I let the man have his boxed stuffing…
I do not compromise on the canned cranberry sauce with my in-laws. Cranberry sauce is so simple to make and it is great paired with fresh orange juice and zest. As a joke last year, I used a can as the mold for my homemade cranberry sauce. By doing this, I am able to make the cranberry sauce from scratch and they can have "canned" cranberry sauce.  Everyone is a winner.
I like experimenting with adding other flavors to cranberry sauce.  Orange and cranberry is a classic combination.  Another combination that works together in a cocktail is orange, cranberry, and peach.  Wanting to elevate my usual cranberry sauce, I wanted to add some peach schnapps to add that extra peach flavor.  Let me tell you, the tartness of the cranberries with the citrus of the orange, and the sweetness of the peach balance out so well.
Bonus: You can make this a few days ahead of time.
Here's what you'll need:
2 cups fresh cranberries
½ cup sugar
1/8 tsp salt
1/8 tsp ground cinnamon
1/8 tsp ground nutmeg
Juice from 1 fresh orange (about ¼ cup)
1 tsp orange zest
1/2 oz peach schnapps (about 1 tbsp) (optional)
1 tbsp honey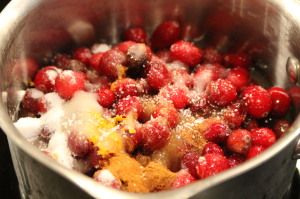 Combine the ingredients in a saucepan. Stir to combine and until sugar is dissolved. Heat on medium heat and bring to a simmer. Cook for 15-20 minutes; stir occasionally. The cranberries will start to pop and the mixture will get nice and thick.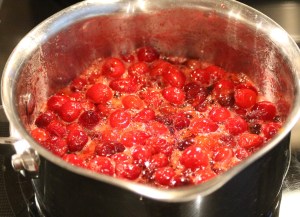 Remove from heat and allow the sauce to cool for about 10 minutes. If you are putting in a mold of some sort, pour into the mold and cover with plastic wrap. Refrigerate until ready to serve. This can be made a few days in advance before serving. You'll want to allow the sauce to set up in the refrigerator for a few hours before serving.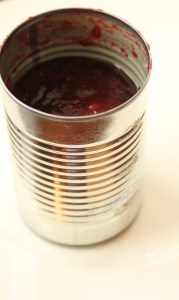 If you are doing the "canned" version, pour into the can and cover with plastic wrap. When ready to serve, remove the plastic wrap. Turn the can upside on the serving platter. Using a can opener, remove the bottom of the can. Using the cut out lid, push the lid in the center, gently and downward, carefully so not to cut yourself. The "canned" sauce will come out onto the platter. Serve to your guests.
If you are not putting into a mold, then transfer to your serving dish or another container and cover with a lid or plastic wrap. Refrigerate until ready to serve.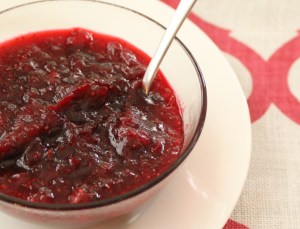 This is great served with our Smoked Turkey Breast.