Okay, let's face it. We can't have Comfort Food month without having dessert.
Jon and I went to his parents' home to hang out a few weeks ago, and we ended up staying for dinner. My mother-in-law wanted to make a trifle using a spice cake. She and I went to the grocery store and we worked together to pick out different flavors we thought would work well in the recipe.
Let me tell you, the flavors we chose were SOOOOOOOO good together. The trifle was light and airy, with the comforting flavors of the cinnamon from the spice cake. The crisp apples gave it a nice little pop.
Since we came up with this recipe on the fly, we don't have step-by-step photos. You can't really mess this recipe up.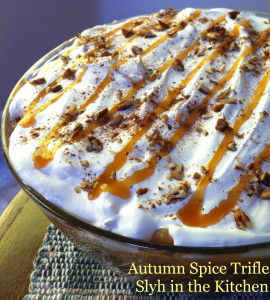 Here's what we used:
1 box spice cake mix (baked according to package instructions)
2 small boxes (3.4 oz each) of instant butterscotch pudding
2- 21 oz cans apple pie filling
2- 8 oz containers of Cool Whip (reserve 1 cup for top)
Caramel sauce (or caramel ice cream topping/syrup, no specific amount, use as much or as little as you like)
1 cup pecans, chopped, plus ¼ cup for top reserved (optional)
¼-½ tsp ground cinnamon
Bake the spice cake according to package instructions.
While the cake is baking, prepare both boxes of the instant pudding according to package directions.
When the cake is finished baking, allow the cake to cool completely. Cut the cake into 1 and ½ inches to 2 inch squares.
In a trifle bowl, start by layering in the cake pieces in a single layer.
Next, spoon some of the pudding over the cake pieces. Just enough to cover the cake.
Layer some of the apple pie filling over the pudding and cake.
Next, drizzle some caramel sauce over the apples (just eyeball it, use as much or as little as you like)
Next, layer on the Cool Whip (use enough to just cover the layers underneath.
Sprinkle on some of the chopped pecans.
Repeat for all layers until you run out of ingredients.*
Using the reserved cup of Cool Whip, spread over the top evenly. Drizzle the top with caramel sauce. Sprinkle about ¼ cup of chopped pecans. Dust the top with the ground cinnamon.
Place in the refrigerator for 30 minutes to 1 hour before serving.
*The amount of layers will be determined by the size of your bowl. The amount of ingredients you use per layer will also vary due to the size of bowl you are using. With the bowl we used, we ended up with about 3 sets of layers.
This recipe is great for a party or pitch-in meal. You can easily get close to 10 servings.
What event will you take this dessert to?