So here we are at week 2 of Comfort Food Month. Hard to believe another week has already gone by. October is nearly half over…where did it go? The new season of The Walking Dead starts this weekend…crazy that 6 months has flown by since the season finale…but I'm glad because I can't wait for the new season to start.
Anyway, back to cooking. For this week, we've made a classic comfort dish. Pot Roast! The great thing is that it is cooked in a slow cooker. I love slow cooker meals. Throw it together and let it cook all day with little to no maintenance during the cook time.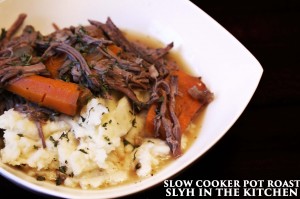 So here's what I used:
1 and ½ lbs beef shoulder chuck roast
Extra virgin olive oil
½ onion, roughly chopped
4-6 carrots, peeled, cut into chunks (I used regular sized carrots, not baby carrots.)
Salt and ground black pepper for seasoning the beef (not to be confused with the salt and pepper below)
32 oz reduced sodium beef broth
12 oz beer (a stout beer or lager is good for this recipe)
2 cups water
1 bay leaf
1 tbsp garlic powder
2 tsp Italian seasoning
¼ tsp allspice
½ tsp salt
¼ tsp ground black pepper
1 tsp Worcestershire sauce
1 tbsp Dijon mustard
Homemade Mashed Potatoes for serving (click on link for recipe)
Time to do something, like read a book while this is cooking…
*If you have gravy lovers in your house, you can easily make a great gravy with the leftover broth to serve on top.
To stay informed of all recipe postings, subscribe, using the subscribe tool at the top of the page.