October is all about comfort food! That's right, everything that makes us feel all warm and cozy inside. With cooler temps arriving, you just want something to warm you up! That's why I am dedicating this month to comfort food!
The first dish up is Chicken 'N' Noodles! Chicken 'N' Noodles are just that, chicken and noodles. This isn't a soup, it's not a stew…it's kind of just it's own thing, really.
I used to make homemade noodles with my Granny as a kid. I didn't always enjoy it. In fact, she's probably up in Heaven laughing at me, because I do make homemade noodles quite often. She taught me using a pasta machine. I have a pasta machine, but I don't use it all the time for making noodles, mostly when I'm making spaghetti or lasagna. The dough recipe is the same either way.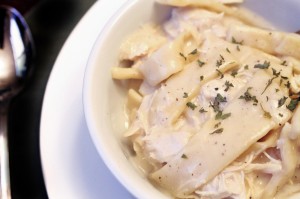 To make the Noodles:
2 cups all purpose flour
2 egg yolks
1 egg
6 tbsp water
Extra flour for dusting work surface
Carefully start stirring the egg mixture.  The flour will start to fall into the well and gradually incorporate into the egg.
I like the "rustic" look of the noodles being different. You can tell they're homemade, and you'll look like a rock star. If you do want a more "uniform" look to them, this is where the pasta machine comes in handy.
If using right away, just allow noodles to sit on a floured surface until ready to use. If you are using later, allow noodles to sit on a floured surface a few hours to dry out. Once they are fairly dry, place noodles in a single layer on a baking sheet lined with waxed paper. Place the baking sheet full of noodles into the freezer. Once they are frozen, place them in a freezer bag and return them to the freezer.
And now for the chicken!
1 and ½ lbs boneless, skinless chicken tenders
3 cups reduced sodium chicken broth
1 cup chardonnay wine (or any dry wine you prefer)
3 tbsp unsalted butter
3 tbsp flour
½ cup heavy cream (that's been warmed in the microwave for about 20-30 seconds)
2 tbsp sour cream
Salt and ground black pepper
Add in the 2 tbsp sour cream.  Add in a few pinches of salt and ground black pepper to your taste level.  Stir to combine.