Biscuits and gravy is a classic breakfast dish.  It definitely screams comfort food.  My uncle used to make biscuits with hamburger gravy for me as a kid.  Anytime I make biscuits and gravy, it always reminds me of him.  This time I used sausage in the gravy.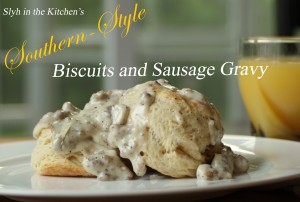 Here's what you'll need:
8oz ground sausage
1 tablespoon extra virgin olive oil
2 tablespoons butter
3 tablespoons flour
1 cup heavy cream
1 cup skim milk
½ teaspoon garlic powder
½ teaspoon salt
¾ teaspoon ground black pepper
Biscuits (click link for recipe) for serving
BONUS RECIPE:  Breakfast Bowl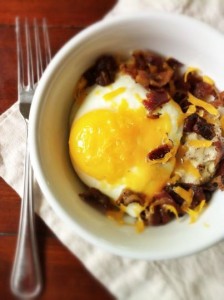 We had some biscuits and sausage gravy leftover…I know, but only 2 of us were eating breakfast yesterday morning.
I refrigerated the leftover gravy and stored the biscuits in an airtight container.  (You can also freeze the gravy, and thaw in the refrigerator overnight.)
I reheated the gravy in a microwave safe bowl on 30 second intervals for 1-1/2 minutes.  I stir in between each interval.
I reheated the biscuits in the oven on 350 degrees Fahrenheit for 5 minutes.
I cooked up a sunny side up egg and a few slices of bacon.
I layered the biscuit in the bowl first.  Next, a spoonful of gravy, the sunny side up egg, bacon crumbles, and shredded cheddar cheese.
Good morning breakfast bowl!