Chocolate Peanut Butter Cereal Bar Treats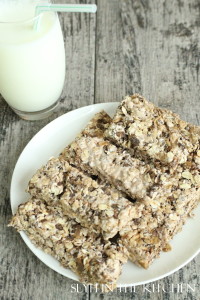 1 and ½ cups crispy rice cereal
1 and ½ cups chocolate flavored crispy rice cereal
1 cup old fashioned oats
8 regular size chocolate peanut butter cups, chopped
7 oz marshmallow cream
⅓ cup chocolate peanut butter spread
1 tbsp light corn syrup
Baking spray
In a mixing bowl, combine the cereals, oats, and chopped peanut butter cups and gently toss.
In a separate, microwave-safe bowl, spoon in the marshmallow cream. Heat in the microwave for 15 seconds, stir the cream, and heat for another 15 seconds.
Carefully remove the bowl from the microwave, using caution; the bowl and cream will be hot; use your oven mitts! Stir the cream again.
Stir the chocolate peanut butter cream and corn syrup into the marshmallow cream until they are incorporated into each other.
Fold the marshmallow cream mixture into the cereal mixture until all of the cereal mixture is coated.
Spoon the marshmallow-coated cereal into a 9 inch x 9 inch square pan lined with parchment paper sprayed with non-stick baking spray. Press the mixture into the pan with the back of a rubber spatula sprayed with baking spray.
Allow the mixture to set and cool to room temperature. Cut the bars into desired shape and size. To cut more easily, I used a pastry cutter sprayed with baking spray.
Store the bars in an airtight container in the refrigerator. I placed sheets of parchment paper in-between the layers of bars in my container to prevent sticking together.
Recipe by
Slyh in the Kitchen
at http://www.slyhkitchen.com/2015/06/03/cereal-bar-treats/