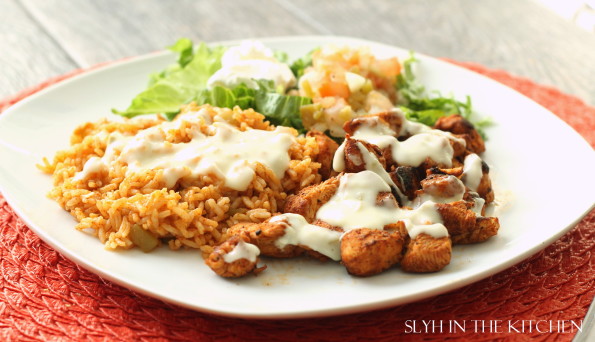 Happy Cinco de Mayo! I hope everyone's day has been great!
How many of you have had Arroz con Pollo from a restaurant? If you've not heard of it, it is seasoned chicken with Spanish rice covered in spicy queso cheese! Doesn't that sound delicious?
This recipe was a special request from one of my cousins. While it took me a few tries to get it just right, I think I've nailed the recipe! I hope she and all of you like this recipe as much as I do!
So we've got three parts to this recipe: The chicken, the rice, and the spicy queso cheese!
Let's start with the Spanish Rice…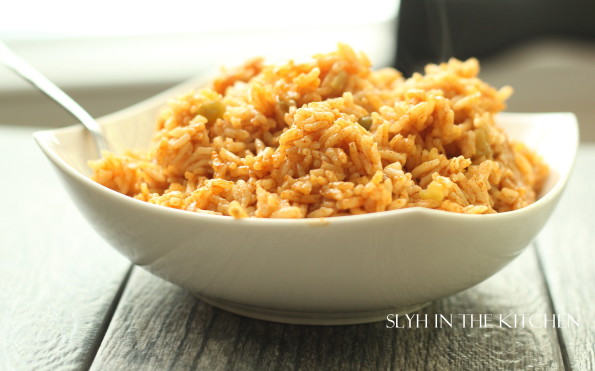 Spanish Rice Ingredients:
1 cup uncooked white long grain rice
½ tbsp paprika
½ tsp chili powder
2 tbsp canned diced green chiles
1 and ¾ cup chicken broth or water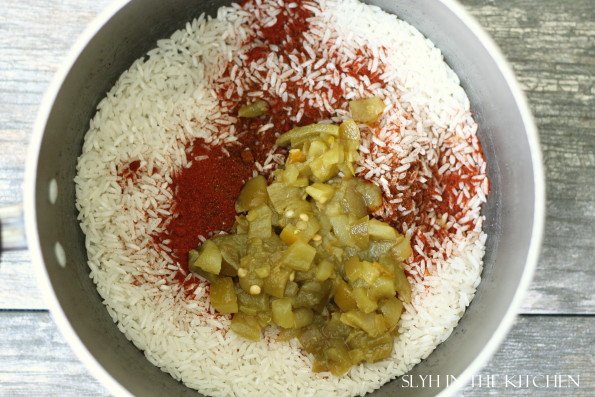 Combine the rice, paprika, chili powder, and diced chiles in a saucepot and stir to combine.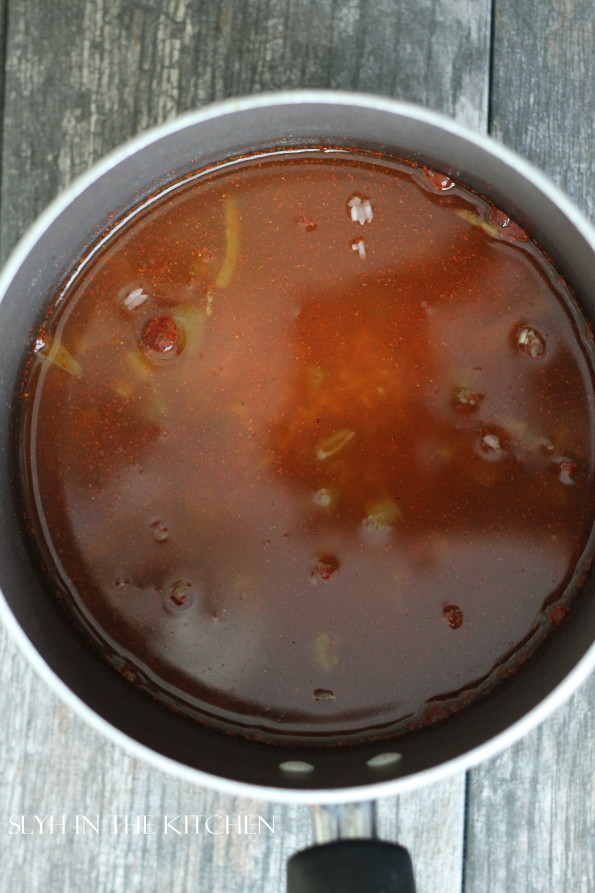 Pour chicken broth into the saucepan. Cover the saucepan with a lid and bring the rice mixture to a boil and reduce to a simmer. Simmer for about 12-15 minutes (cooking time may vary).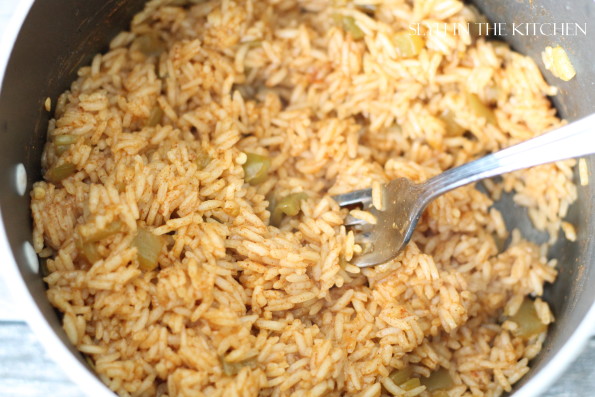 Remove the saucepan from heat and fluff the rice with a fork before serving. Makes about 3-4 cups of rice.
Chicken Ingredients:
2 boneless, skinless chicken breast, cut into bite-sized pieces
1 tbsp paprika
½ tsp salt
½ tsp garlic powder
1 tbsp canola oil
Shredded lettuce for garnish (optional)
Prepared pico de gallo for garnish (optional)
Sour cream for garnish and serving (optional)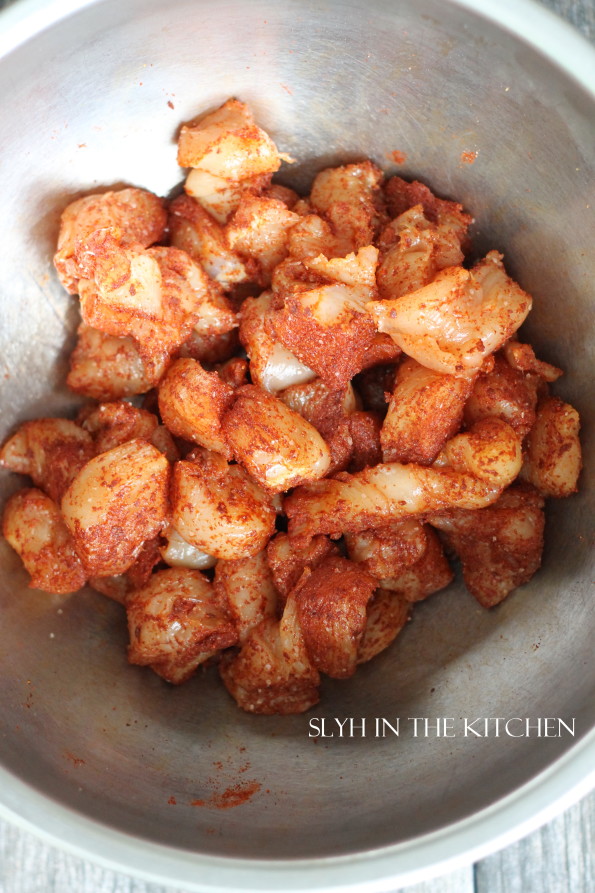 Combine the chicken, canola oil, and seasonings in a bowl and gently toss to combine.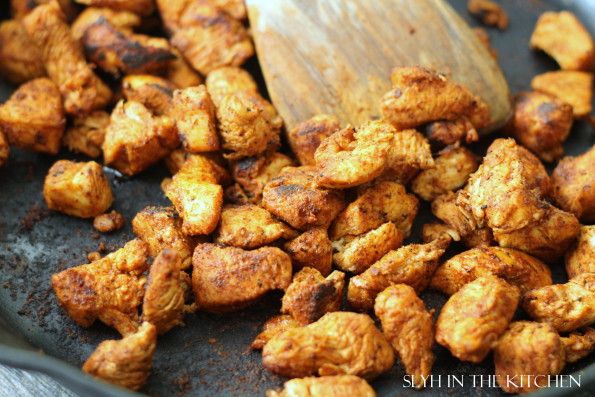 Pre-heat a cast-iron skillet on medium-high heat. Add chicken to the skillet. Using tongs turn the chicken as needed throughout the cooking process. Cook until the chicken is cooked through.
Now for the best part….the delicious spicy cheesy goodness…the Spicy Queso Cheese Dip!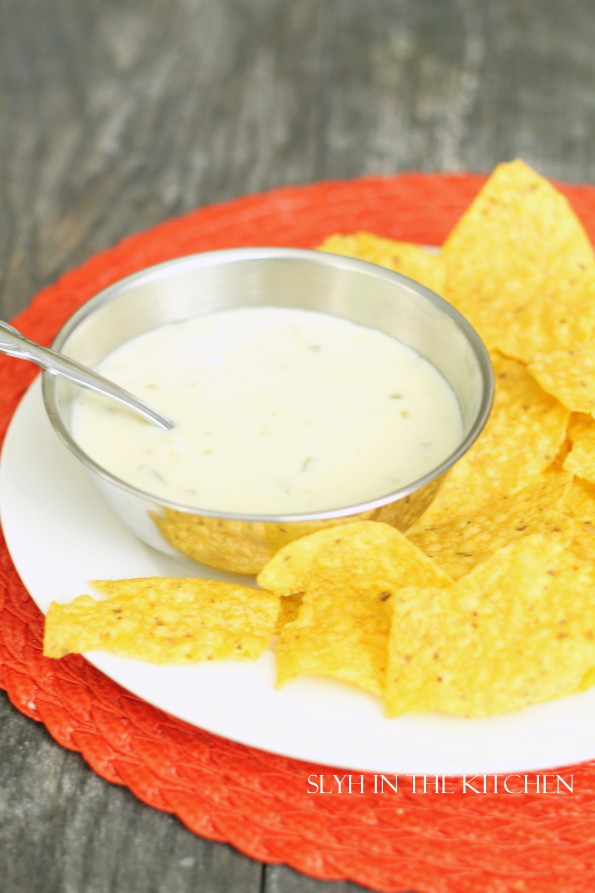 Spicy Queso Cheese Dip Ingredients:
¾ cup skim milk
2 tsp cornstarch
3 cups shredded white American cheese
½ tbsp to 2 tbsp finely diced jalapenos from a jar (we like ours pretty spicy, so we used closer to the 2 tbsp, if you don't want your cheese very spicy use the ½ tbsp or even less)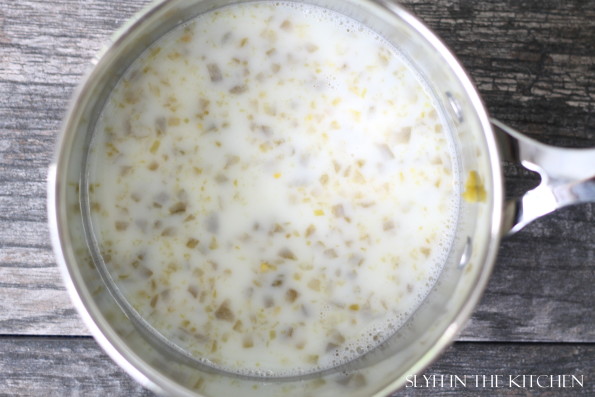 Whisk the milk and cornstarch together until the cornstarch dissolves. Stir in the jalapenos. Heat the mixture on low-medium heat until it just starts to thicken. Stir occasionally. Reduce the heat to low.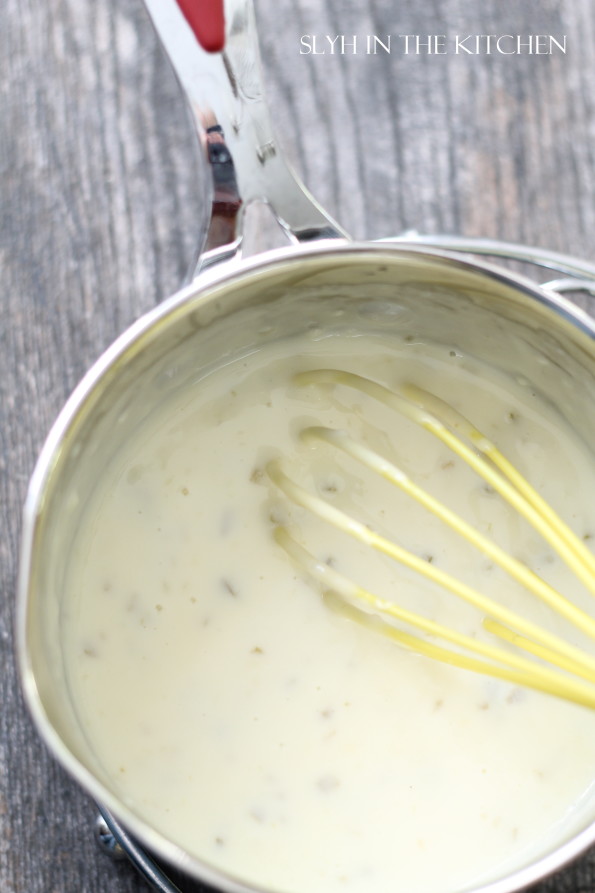 Stir the cheese in a little at a time until all is incorporated. Remove from heat immediately and serve.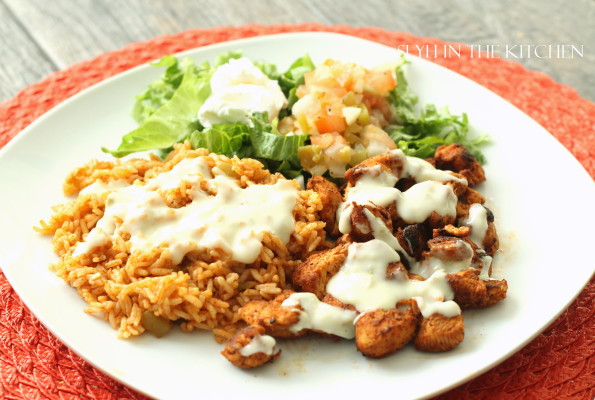 Now it's time to assemble our dish!
Place a spoonful of rice on a plate and add a spoonful of chicken. Drizzle some of the delicious spicy queso cheese dip all over the rice and chicken. Serve with shredded lettuce, sour cream, and prepared pico de gallo on the side.
---
Prep time:
Cook time:
Total time: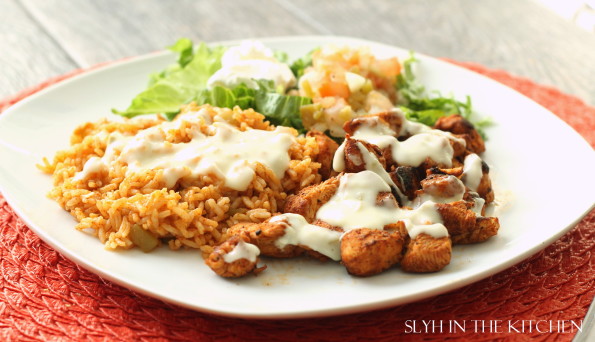 Delicious seasoned chicken and Spanish-style rice covered in spicy queso cheese!
Ingredients
Spanish Rice Ingredients:
1 cup uncooked white long grain rice
½ tbsp paprika
½ tsp chili powder
2 tbsp canned diced green chiles
1 and ¾ cup chicken broth or water
Chicken Ingredients:
2 boneless, skinless chicken breast, cut into bite-sized pieces
1 tbsp paprika
½ tsp salt
½ tsp garlic powder
1 tbsp canola oil
Shredded lettuce for garnish (optional)
Prepared pico de gallo for garnish (optional)
Sour cream for garnish and serving (optional)
Spicy Queso Cheese Dip Ingredients:
¾ cup skim milk
2 tsp cornstarch
3 cups shredded white American cheese
½ tbsp to 2 tbsp finely diced jalapenos from a jar (we like ours pretty spicy, so we used closer to the 2 tbsp, if you don't want your cheese very spicy use the ½ tbsp or even less)
Instructions
Spanish Rice:
Combine the rice, paprika, chili powder, and diced chiles in a saucepot and stir to combine.
Pour chicken broth into the saucepot. Cover the saucepot with a lid and bring the rice mixture to a boil and reduce to a simmer. Simmer for about 12-15 minutes (cooking time may vary).
Remove the saucepot from heat and fluff the rice with a fork before serving. Makes about 3-4 cups of rice.
Chicken:
Combine the chicken, canola oil, and seasonings in a bowl and gently toss to combine.
Pre-heat a cast-iron skillet on medium-high heat. Add chicken to the skillet. Using tongs turn the chicken as needed throughout the cooking process. Cook until the chicken is cooked through.
Spicy Queso Cheese
Whisk the milk and cornstarch together until the cornstarch dissolves. Stir in the jalapenos. Heat the mixture on low-medium heat until it just starts to thicken. Stir occasionally. Reduce the heat to low.
Stir the cheese in a little at a time until all is incorporated. Remove from heat immediately and serve. If you're using as a dip for chips, you can transfer the cheese to a small slow-cooker and place on the warm