Warmer weather is here, at least here in the South. With warm weather comes BBQ grills, cook-outs, and family outdoor gatherings. You, of course, need food for each of those events. We often concentrate on the main entrée in our recipes, but today we're switching gears and looking at side dishes.
A classic side dish at a cook-out is potato salad. This recipe is loaded with bacon! Can it get any better?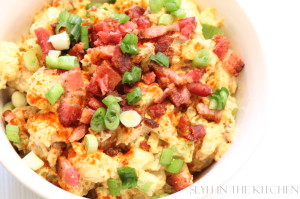 Ingredients:
4 cups potatoes, boiled in salted water until fork tender, drained, and cooled
2 stalks chopped celery
¼ cup chopped sweet onion
¼ cup chopped bread and butter pickles
5 slices cooked bacon, chopped, (reserve 1 slice for garnishing)
2 green onions chopped
Dressing Ingredients:
¼ cup Dijon mustard
¼ cup mayonnaise
1 tbsp yellow mustard
1 tsp apple cider vinegar
½ tsp Worcestershire sauce
½ tsp liquid smoke
½ tsp ground paprika
1 tsp garlic powder
1/8 tsp ground black pepper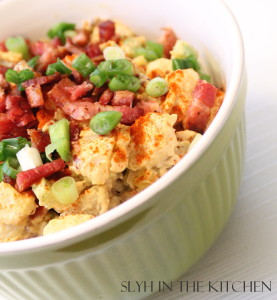 In a mixing bowl, combine the cooked potatoes, celery, sweet onion, pickles, and bacon. Fold until combined.
In a separate mixing bowl combine all of the dressing ingredients. Stir until all is combined.
Pour the dressing over the vegetables. Fold until all of the vegetables are covered.
Spoon potato salad into a serving bowl. Top with the remaining chopped bacon and green onions. Place in refrigerator for at least 1 hour before serving.
Makes about 6 servings.
Who will you share this potato salad with?
We recommend serving this potato salad with our Pork BBQ Ribs.