Last week, Jon and I went out for date-night to a local restaurant. We had been there before while on vacation, but we hadn't been back in the two and a half years that we've lived in the area. Why did it take so long to get back to this place? Hard to say, but the food was so good. We decided we liked it even more than our then-favorite seafood restaurant.
One thing that really stuck out to me was their Frozen Strawberry Mojito. It had the perfect balance of sweetness with the tartness of the lime. So good. Who knew mint went so well with strawberry?
Some of you may know that I am known among my family and friends for making frozen strawberry margaritas and daiquiris. So, it shouldn't be much of a surprise that I had to come home and make my own version of the Frozen Strawberry Mojito.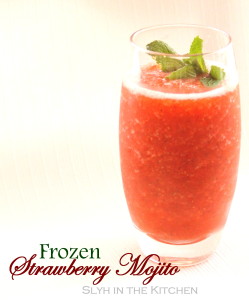 Makes 4- 8 oz servings
Ingredients:
1 lb strawberries, chopped
12-14 fresh mint leaves
½ tsp fresh lime zest
¼ cup fresh lime juice (about 2-3 limes)
¾ cup sugar
4 oz strawberry rum
2-3 cups crushed ice (I let my refrigerator/freezer ice maker/machine do the crushing for me.)
Mint sprigs for garnish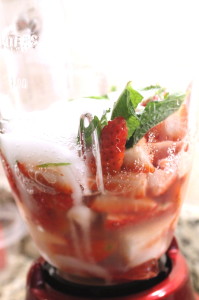 In a blender, combine all of the ingredients, except for the ice.
Blend until smooth.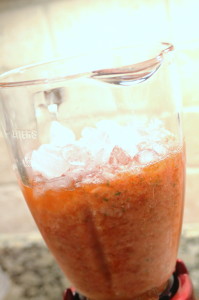 Add in the ice and blend until it is all incorporated.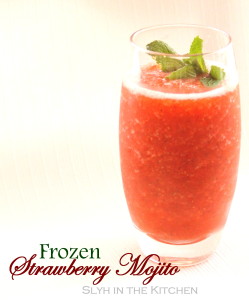 Pour into four 8oz serving glasses. Add a sprig of mint for garnish.
How easy and tasty is that?
*Inspired by The Black Marlin Bayside Grill's Frozen Strawberry Mojito.
*Please drink responsibly.