With Spring and warmer weather approaching, it's nice to have a bright springtime cocktail recipe ready for lazy days sitting on the porch. Lowcountry Sunshine is the drink just for the occasion.
When I think of a springtime flavor, I automatically think of lemon. Lemon is tart, but bright and refreshing. It, of course, is yellow, which reminds me of sunshine. (How corny does this sound? But it's true for me, anyway.)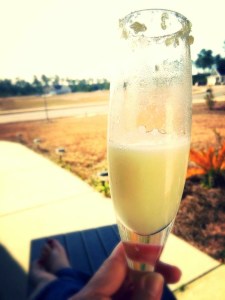 Jon and I really enjoy sitting in our rocking chairs on our front porch listening to music and watching our neighborhood world go-by. This past weekend was no exception. The weather was PERFECT. It was warm, bright, and sunny, not to mention, great for flip-flops or being barefoot (which I am usually regardless of the weather). It was also the perfect day to have our Lowcountry Sunshine drinks in-hand.
Makes Approximately 1-8oz drink
Ingredients:
1 cup lemon sorbet
2 oz limoncello
½ tbsp fine sugar
Optional Garnishes:
Water
1 tbsp crushed hard lemon candy
Lemon slice for garnish
In a blender, combine the lemon sorbet, limoncello and sugar. Blend until smooth.
Dip rim of glass into water, then dip the rim into crushed candy for garnish (this is an optional step).
Pour the Lowcountry Sunshine into a serving glass.  I actually prefer drinking this cocktail with a straw.
 *Please drink responsibly.