It has been unusually cold here in South Carolina. It barely made it to 50 degrees yesterday, and this morning it was in the 30s! That's cold here!
Jon and I spent yesterday afternoon at the Concourse D'Elegance Motoring Festival. The car show was great. We got to see some American classic cars, vehicles from Porsche (new and classic), Lotus, BMW, Mercedes, Jaguar, and Rolls Royce. Very cool. It was so nice to see different cars than what we would have normally seen in Indiana.
While the car show was fun…the weather…not so great for an OUTDOOR show. It was in the 40s while we were there and cloudy. We couldn't wait to get warmed up. Could anything be better than warming up with a big bowl of CHICKEN CHILI? Maybe there are a few things you could think of…but this was so tasty last night!
Jon really wanted fresh bread. We found a great recipe for a quick French bread. He worked on that while I worked on the Chicken Chili.
This Chicken Chili is a cross between chili and chicken tortilla soup. The ground cayenne pepper gives the dish a slight spiciness and the ground cinnamon provides the perfect amount of warmth.
The leftovers are even amazing! Jon ate two helpings last night and two helpings for lunch today. This recipe is really a keeper!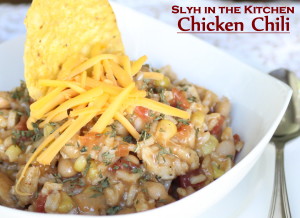 Here's what we used:
3 tbsp extra virgin olive oil
1 lb boneless, skinless chicken breast, cut into 1 inch pieces
¼ tsp each of salt and ground black pepper to season the chicken
3 cloves of minced garlic
½ cup chopped sweet onion
1 cup frozen corn kernels
1-10 oz can Original Rotel Diced Tomatoes with Chilles
1-15 oz can white kidney beans (Cannellini beans), drained and rinsed
1-14 oz can reduced sodium chicken broth
1- 10 ¾ oz can condensed cream of chicken soup
1/8 tsp ground cinnamon
1/8 tsp ground cayenne pepper
¼ tsp ground black pepper
½ tsp salt
1 tsp ground paprika
1 and ½ tsp ground cumin
½ cup long grain white rice, uncooked
Shredded cheddar cheese for serving
Tortilla chips for serving
Heat 2 tbsp extra virgin olive oil on medium-heat for about 1 minute in a 4-5qt saucepan (you want something you'll be able to cover with a lid). Add in the pieces of chicken and season with ¼ tsp of salt and ground black pepper each. Cook until the juices of the chicken run clear.
Reduce the heat to medium. Add 1 tbsp extra virgin olive oil, the minced garlic, and chopped onion to the chicken. Cook for about 1-2 minutes, stirring occasionally.
Next add in the corn kernels, Rotel, and drained and rinsed white kidney beans. Stir and cook about 1 minute.
Add in the chicken broth and cream of chicken soup and stir.
Add in the seasonings: ground cinnamon, ground cayenne pepper, ¼ tsp ground black pepper, ½ tsp salt, ground paprika, and ground cumin. Stir the soup and bring to a low simmer.
Once the soup comes to a low simmer, stir in the rice. Cover the saucepan with a lid and simmer for about 15-20 minutes (or until the rice is tender). Stir occasionally so it doesn't stick to the bottom.
Serve with shredded cheddar cheese and tortilla chips and get cozy! We served this up with our hot, out-of-the-oven French bread…so good!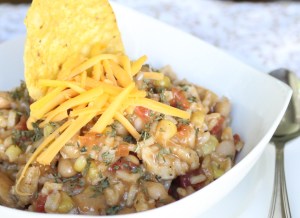 This makes about 6 servings.