Okay, so you made the Pulled Pork Nachos this weekend for the big game. As shocked as I am, you may have had some shredded pulled pork left over. Rather than making more nachos, we can turn the leftovers into a few new meals.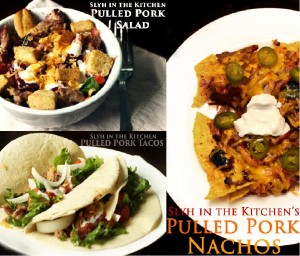 First up: Pulled Pork Salad
Here I've used green leaf lettuce, chopped tomato, shredded cheddar cheese, grated carrots, some dried cranberries, croutons, pulled pork, and a 1:1 ratio of BBQ sauce to ranch dressing. Use as little or as much as you'd like for each of the ingredients. I made myself a single-serve salad, but you can make multiple ones, depending on how much pulled pork you have left.  I love the pop of sweetness the dried cranberries give to the dish.  It's such a nice little surprise!
Next: Pulled Pork Tacos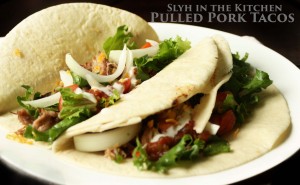 Here I've used 10 inch flour tortilla shells (warmed according to package instructions), pulled pork, shredded lettuce, shredded cheddar cheese, chopped tomato, sliced onions, salsa, and ranch dressing (you could substitute sour cream or add it as well). Again, top with as many and as much or as little of the ingredients as you like.  This is such a nice alternative to using beef or chicken for tacos.  You could also use red cabbage or red onion for a pop of color.
Now if you missed the Pulled Pork Nachos, just click the link, it will take you to the posting.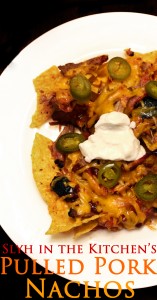 If you'd like to know how to make the Pulled Pork to turn it into one of these fabulous dishes, here's the method:
Use the pulled pork for any of the above dishes.  You could even serve with BBQ sauce to make sandwiches for a fourth option 🙂