Now that Labor Day has come and gone, it almost feels like summer is over. Summer is great and all, but once September is here, there's one thing that a lot of Americans are thinking about…FOOTBALL!
Each Saturday, we're huddled near the television to watch the Buckeyes take on whichever team they're up against that week. Then on Sundays, we're ready to watch the pros!
One of the ways to make the game much better to watch, is having great food to enjoy! Sure, you can go to a sports bar, hang-out, pay for over-priced drinks that you could have bought from the store for half the cost, and pay for mediocre bar food. Plus, you've got to make sure you've got a good seat to even see the TVs.
Me, if I can't go to the game, I'd rather be at home watching the game. I've got my own drinks, my own comfy sofa, and of course, my own fabulous food!
Keep an eye open this month here at Slyh in the Kitchen. I've got game day meals and snacks you won't want to miss each week this month.
One of the meals I think of for football, is buffalo chicken. So this week for game day food, we've got Buffalo Chicken Sandwiches!  The best part…it's baked…and it tastes just as good, if not better than a fried sandwich!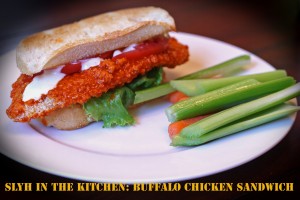 Here's what I used:
1lb thinly sliced, boneless, skinless chicken breasts (about 4 cutlets)
2 cups panko breadcrumbs
½ tsp salt
½ tsp ground black pepper
2 eggs
4 tbsp water
1 cup Buffalo wing sauce, divided into ¼ cup portions
8 slices of toasted sandwich bread
4 leaves of lettuce
4 slices of tomato
Ranch dressing
Celery and carrot sticks
Yield: 4 sandwiches
Place baking sheet into the freezer for about 15-20 minutes. This will help the breading adhere to the chicken better.
Be sure to have lots of napkins and paper towels handy!  This sandwich can get a little messy, but it's soooooooo worth it!
What's your favorite game day food?
Be sure to come back and see how the Slyhs are getting "Slyh in the Kitchen" for next week's game day!