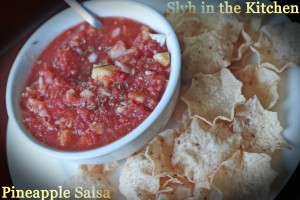 For the longest time, I would not eat or touch pineapple! I didn't like it as a kid. If fruit punch even smelled like it was in there, I wouldn't drink it.
A few months ago, I was cutting a pineapple up for my husband, who LOVES pineapple. It smelled good, so I decided to give it a try once again…well…I really liked it! What have I been missing???????
Now we are buying pineapple more frequently, and I'm using it for all sorts of things, from BBQ pizza, to chicken kabobs, and now to salsa!
Here's my take on Pineapple Salsa…it's a little bit sweet and a little bit spicy! Eat with tortilla chips, or load it up on some fish or chicken tacos.
Ingredients:
1-10 oz can diced tomatoes with green chilies (I used the original flavor, but depending on how much heat you like, choose either mild, original, or hot.)
¼ cup of diced sweet onion
¾ cup diced pineapple
¼ tsp paprika
¼ tsp granulated garlic
¼ cumin
What sorts of things do you like to serve with salsa?