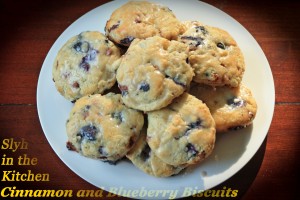 Jon and I went on our usual weekly grocery shopping trip yesterday morning. Blueberries were on sale for a great price! I couldn't resist picking up a container of them. I like using blueberries in all kinds of things, from just eating them on their own, to muffins, and to, yes, biscuits!!!
We were talking about those cinnamon and raisin biscuits from a fast-food joint, that we hadn't had in years the other night. We talked about how they sounded good, and how long it's been since we've had one. I told him about how we used to get them in the mornings before going to be babysat by my aunt. We would get to her house in the morning, and we would sit with my cousin and eat them up! I don't even know if that fast-food place is even around here anywhere…but I got the idea to make Cinnamon-Blueberry Biscuits for breakfast this morning.
You could probably compare them to a scone…but we live in the South…and in the South…we eat BISCUITS!
Here's what I used:
For the biscuits:
2 cups All-purpose flour
1 tbsp baking powder
1 tsp salt
2 tbsp sugar
1/3 cup COLD unsalted butter (cut into small cubes)
¼ cup cinnamon chips (they're like chocolate chips, but cinnamon, if you haven't seen them)
¾ cups blueberries
1 tsp flour
1 cup COLD milk
Extra flour for dusting your hands, work surface, dough, and biscuit cutter
2 tbsp melted unsalted butter
For the icing glaze:
1 and ½ cups powdered sugar
4 tbsp milk
1 tbsp maple syrup (I used the sugar-free kind since there was already powdered sugar going in, but regular is fine to use.)
1 tsp vanilla extract
1 tbsp unsalted melted butter
Using a spatula, carefully remove each biscuit and lay onto the wire cooling rack.  Again the biscuits will be hot, so use caution!
For the Icing Glaze: