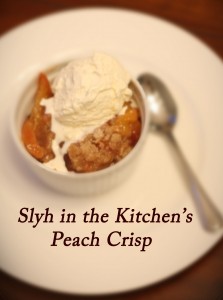 Summertime in the South means PEACHES!!!! Every time I walk by the peaches in the store I can't resist picking some up. They smell so delicious! There are so many roadside stands and farmer's markets where you can also find great peaches here. There are quite a few things you can make with fresh peaches. I decided this time around, I'd make Peach Crisp.
My dad is known for making a great apple crisp, but where I live, I don't really know of any apple orchards. Peaches are everywhere this time of year here, so I decided to change things up a little and use peaches instead. Here's my take on Peach Crisp.
Here's what I used for the filling:
5 ripe peaches (cut into thin slices, about 12 slices per peach, discard the pits)
¼ cup sugar
2 tbsp brown sugar
1/8 tsp ground cinnamon
¼ tsp salt
1/8 tsp ground clove (optional)
1 tbsp cornstarch
Juice from ½ lemon
Here's what I used for the crisp topping:
¼ cup sugar
½ cup all-purpose flour
¼ tsp ground cinnamon
1/8 tsp salt
3 tbsp cold unsalted butter (cut into small cubes)
Vanilla ice cream for serving (optional)
Time to make the topping!!!!