Sometimes I like to jazz up spaghetti night by using homemade meatballs instead of just browning up ground beef or ground sausage. I decided to even jazz up the meatball a little. It's nice to break up the monotony of the same ol' spaghetti dinner. This is a great recipe to serve up with the Fresh Wheat Pasta!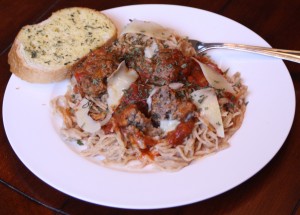 Here's what I used:
1 lb ground beef (you can always substitute ground turkey if you like)
1 egg, beaten
½ tsp salt
¼ tsp ground black pepper
2 tbsp basil pesto (I just used the jarred, because that's what I had.)
2 tbsp grated asiago cheese
2 tbsp grated Parmesan cheese
1/3 cup roasted garlic breadcrumbs (I used Kroger brand)
16- ½ inch cubes of mozzarella cheese (I just buy a small block of mozzarella cheese and cut them into small cubes myself.)
2 to 4 tbsp extra virgin olive oil
Red Sauce
While jarred spaghetti or marinara sauce is okay to use, since we're jazzing things up, we might as well jazz up the sauce as well!
This is what I used for the sauce:
28 oz can of peeled, crushed tomatoes
24 oz jar of spaghetti sauce (I used Ragu Garden Combination, but you can use your favorite marinara)
1 tbsp sugar
1 tbsp Italian seasoning
1 tsp dried basil
1 tsp granulated garlic
1 tsp onion powder
1 tsp dried oregano
½ dried dill
½ tsp salt
½ tsp white ground pepper