So one of the things I really enjoy about cooking is making things from scratch. I love to make homemade pasta. I've made pasta for lasagna, spaghetti, and ravioli. I even make egg noodles for chicken and noodles.
My mother-in-law and father-in-law bought me a hand crank pasta machine for Christmas one year. I really enjoy using it. It works for both pasta and egg noodles.
I used to make noodles with my Granny for chicken and noodles. I wasn't too crazy about doing it as a kid, but I really enjoy making noodles and pasta now. It always reminds me of her when I use the pasta machine.
Even if you don't have a pasta machine, you can still make pasta; all you need is a rolling pin for it! Your noodles just won't be as thin as spaghetti, more wider like fettuccini (which is still delicious!)  For this recipe, I am using a Fox Run Pasta Machine
¾ cup Whole wheat flour
¾ cup Semolina flour
¼ tsp Salt
2 Eggs, beaten
3 tbsp Extra virgin olive oil
3 tbsp Water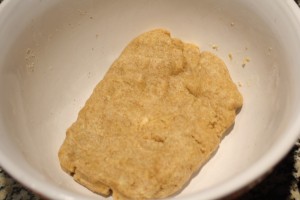 The dough will look like this when it comes together.
*If you are making lasagna, you might go down to the number 3 or 4 setting. Once you get to this point, you can start layering your lasagna and skip the next steps I'm about to show you. Also, if making lasagna, the noodles won't need to be pre-boiled. I make a double batch of the pasta dough for lasagna.
You can also freeze the fresh pasta once it's been cut. Place a sheet of waxed paper onto a baking sheet and place the piles of pasta on the waxed paper in separate piles and cover with plastic wrap. Place into freezer for a few hours. Once the pasta is frozen, store in freezer storage bags. When ready to use, just place the frozen piles in boiling water (no need to thaw).
*I've never tried freezing the lasagna noodles (I would think you would need to separate each layer of noodles with waxed paper. You would probably also need to thaw in the refrigerator before using. You could also just go ahead and make up the lasagna and freeze before baking, so it's ready to go anytime.) If you've tried this or have suggestions, please let me know in the comments so others can be informed.
Stay tuned for the Stuffed Mozzarella Meatballs with Red Sauce and Garlic Bread recipes to go along with the fresh pasta!!!!
*This post contains affiliate links.