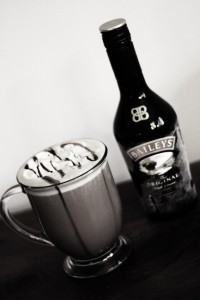 I drink coffee daily, usually black with just a little milk.  I do like to occasionally endulge in a specialty espresso drink.  The coffee shops here are little bit of a drive from home.  I like to keep the ingredients on hand to make them myself.  Plus, it's a lot less expensive than the coffee shops!  Another great thing, you can control how much of things get put into the drink.  If you want extra whip, pile it on!  More chocolate?  Drizzle on!
Whipped Cream Ingredients:
¼ cup cold whipping cream
2 tsp powdered sugar
1 tsp vanilla extract
Espresso Drink Ingredients:
4 oz steamed and frothed milk
4 oz freshly brewed espresso
2 tablespoons semi-sweet chocolate syrup
2 tablespoons Bailey's Irish Cream
A few tips for this recipe:
If you don't have an espresso machine, you can use 4oz of freshly brewed strong coffee.
If you don't have a milk steamer/frother, you can heat the milk in a saucepan on the stove to 150 degrees.  Be sure not to boil/scald the milk.  You can create bubbles by whisking after heating, if you don't have a frother.